NOTE: As an Amazon Associate I earn from qualifying purchases. I also earn money from other companies, read my full disclosure here
Hot Latte Wedding Invitations
Latte is a shade of brown that first started to become popular in weddings during 2012 when it was named one of the colors of the year.   It has continued to remain popular in part because of how well it can compliment other colors beautifully.
Let me take you through my selection of latte wedding invitations while you relax at home with a glass of wine or a much needed coffee – hopefully I'll help you fall in love with your perfect wedding invite.
Rustic Latte Wedding Invitaion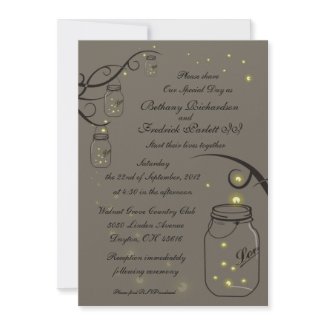 This wedding invitation is a little darker than the shade of latte I'm more familiar with, but I do think the Mason Jar and Firefly design would work really well for a rustic themed wedding or a country chic wedding.
The design has proven to be a very popular one and it's no surprise to me as I think it's really well done. You can also get the design in different colors if you're not totally sure about using Latte as your wedding color yet.
There's a range of other wedding products available in this design and they include Save the Date cards, postage and RSVP cards –
Click on these items to see a larger image and/or to find out more information on them.
Latte & Cream Wedding Invitaions
I think these monogrammed love birds are really cute and the design will work well for a number of different styles of wedding. The main color of the invitation is cream with the latte being almost highlighted as the lovebirds are latte and are obviously the most important design element on the invite.
This design (like the previous one) is also available in different colors besides the latte.
You can also get the designs on other pieces of wedding stationery like these –
A RSVP card, wedding favor sticker, thank you card or wedding favor tag – click the product for more information.
A Winter Holiday Wedding Invitation in Latte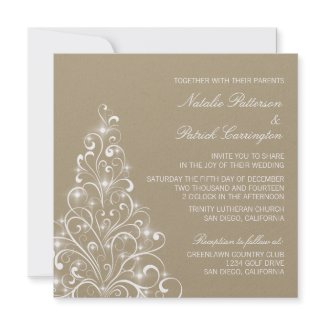 This wedding invitation is obviously designed with a Christmas wedding in mind (just check out the Christmas tree!), but latte isn't a traditional holiday wedding color combination which really makes a statement by itself.
I think if you want to use this wedding invitation you're planning a very sophisticated wedding with a nod to that time of the year and a reception that's dripping in elegance!
As you would expect this design is available in a range of other colors besides latte including a much more traditional red and a gorgeous aqua. You can also find this design on a number of wedding stationery items including wedding postage, place cards and thank you stickers.
Click on the product you like to see a larger image and/or to find out more about it
Latte & Green Wedding Invitaion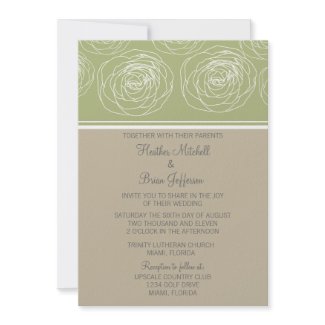 I love this color combination as the green brings a real freshness to the latte and gives a bright feeling to the wedding stationery. I think this would be an especially good wedding invitation for a spring wedding. The hand drawn white roses on the green add another dimension to the invitation making it feel very romantic and hopeful.
Like many of the other designs this is also available on a number of stationery products and the design can also be seen in different color combinations.
Click on the cards for a larger image and/or more information.
Aqua & Latte Wedding Invitaion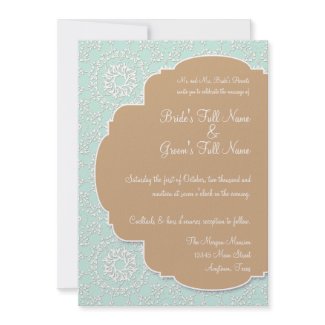 Aqua and Latte have both been touted as hot wedding colors for 2012 and 2013 so combining them both seems like a sure hit. Using a damask pattern is very traditional, but the fact that the latte quatrefoil is slightly off-center combined with the color combination adds a fun modern twist to the design.
I think this would work well for a modern, contemporary wedding theme as well as being ideal for a beach wedding or even a winter wonderland affair. This wedding invitation really does work well for a number of different themes. Luckily you can get all of your wedding stationery in this design and here are a few pieces for you to look at.
Click on the products to see a larger image and/or for more information.
Sophisticated Latte & Black Wedding Invitation
This is a very sophisticated wedding invitation which sees a latte colored leaf design on a black background at the top and on the back of the invitation. The main part of the invitation has a latte gradient background with black writing for the wedding details.
The result is an elegant wedding invitation which I'm sure will prove to be very popular, I think it's the gradient color in the background that just helps to lift it from just another wedding invitation to a very special looking invite.
There are a few other stationery items that are available in this design such as wedding postage, RSVP cards and save the date magnets, check them out below –
Click on the products for a larger image and/or more information