NOTE: As an Amazon Associate I earn from qualifying purchases. I also earn money from other companies, read my full disclosure here
Planning a Red and White Wedding
If you're planning a red and white wedding then you've come to the right place for both inspiration and help. We have everything from save the date ideas to wedding invitations, bridal party fashions and wedding decorations so let's have a look at planning your perfect day in red and white.
Red and white is a great combination for a wedding as it combines the red for the passion you feel for each other and the white for the purity of the love between you – talk about a romantic wedding theme.
Red and White Wedding Stationery
Wedding invitations and other pieces of wedding stationery can be quite expensive which is why I'm so glad I discovered something called PODs – these are companies that print items on demand. My favourite POD is called Zazzle and they have a great collection of wedding stationery to choose from.
As Zazzle is an online company they don%u2019t have the same overheads to pay which means they are a much more budget friendly option for your wedding stationery than some of the traditional printing companies. Zazzle are also a company that offers it%u2019s customers a 100% customer satisfaction and I have to say that I have always found their products to be excellent.
Red & White Save the Date Ideas
Zazzle offers a range of ideas to send to people besides the usual Save the Date Cards (although they have them too). Ideas include badges, magnets and stickers, let's look at some of the ideas –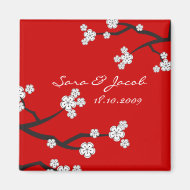 Red & White Wedding Invitations
Next, of course, are the wedding invitations and there are lots of different styles of red and white wedding invites to choose from as you'll see on this page –
Red and White Wedding Invitations
If the answer to that question is yes then you're in the right place as I've compiled a gorgeous selection of red and white wedding invitations in a range of…
The great thing about Zazzle is that you can get not only matching save the date cards, invitations, place cards etc, but you can also get matching postage stamps for some designs and in my opinion this is a great little extra that really gets noticed.
Winter Inspired Red and White Wedding Board
Wedding Inspiration Board
This red and white wedding inspiration board is brought to you thanks to Beau-coup who specialize in lots of wedding goodies for you. It's based on a winter inspired wedding and red and white is certainly a hot color scheme for winter as the red is such a warm color. If you're not planning on a winter wedding, that's okay because red and white is perfect for any season just keep on looking further down the page for more gorgeous ideas.
Red and White Bridal Party
Red & White Wedding Fashion
The first step to planning what your bridesmaids and the rest of the bridal party are going to wear starts with you deciding on your wedding dress and if you want something a little different to the usual white wedding dress you might want to throw in a little red –
Red and White Wedding Gowns
If you're planning a red and white wedding then you don't have to stick to a white wedding gown or even a red wedding gown instead you can combine red and wh..
Now it's time to think about the bridesmaids. You can dress them in red if you're going to be wearing a white or a red and white wedding gown, alternatively if you're planning on being the bride in red then you can find a white bridesmaids gown for them to wear.
Beaded Straps Bridesmaid Dresses with Sparkling Embellished Waist
Fashion Temperament Bridesmaid Dresses Ball Gown (Red)
Fashion Plaza Strapless Bridesmaids Evening Dresses (Red)
Fashion Plaza One-shoulder Chiffon Bridesmaid Dress (Red)
Ever Pretty Bridesmaid Dresses With Sleeves in Red
Trailing V-neck Ruffles Cross Back Empire Waist Bridesmaid Dress
Elegant V-neck Long Chiffon Crystal Maxi Evening Dress in white
Gorgeous Sweetheart Bridesmaid Chiffon Dress in white
Ever Pretty Falbala Ruffles Calf-length Empire Line Bridesmaid Dress
Let's not forget the shoes! Here's a selection of red and white bridal shoes in a range of styles –
Red Wedding Shoes
I've compiled a fantastic collection of red wedding shoes for you to look through here – I have a wide selection which means that there should be at least on…
White Wedding Shoes
There are lots of different color wedding shoes available, but white remains a very popular one – however, what style do you want to buy? For your wedding da…
Let's not forget the flower girls – there are some gorgeous flower girl dresses available, I love the mainly white, but with a little red like these –
Of course you might prefer to dress your flower girls in red and that's okay as well – look at these gorgeous dresses –
Red & White Wedding Flowers
The first thing I think of when I think of a red and white wedding are red and white roses, but there are definitely other flowers that you can use such as poppies, orchids and lilies. Check out a few floral ideas here –
Photo Credits – From top right corner, clockwise – LDClark on Flickr | brian.ch on Flickr | Danielle Walquist Lynch | melalouise on Flickr | Letheravensoar on Flickr | Nata S on Flickr
Of course you don't have to have a red and white bouquet you could have a white bouquet or a red bouquet instead. Another option which is often used is when the bride wears white and the bridesmaids wear red the bride will carry a red bouquet and the bridesmaids a white one.
Here's a few more wedding flower bouquet ideas for you –
Photo Credits From the top right and moving clockwise – annee.baba on Flickr | Merrie Haskell | ckaroli on Flickr | Andrew Blight | elPadawan on Flickr | Du Ziedeliai on Flickr
Red and White Wedding Inspiration Board
Supplier List
Red & White Wedding Dress

Red Wedding Flowers
Red & White Unity Candles

White Mini Lanterns
Heart Shaped Petals
Strawberry Cocktail
Crystal Tea Lights
Red Champagne Flute
Red and White Wedding Accessories
From decorating your wedding venue to ring pillows and more there are a few things that are useful to have as wedding accessories. If you're getting married in a church then decorating the church in your colors is important. Whereas flowers is a traditional way of decorating the church sometimes this can become expensive so another alternative is to use tissue pom poms instead, like these –
If you're getting married outside then you'll need a small table for the signing of the marriage certificate etc and I would make sure you have a full tablecloth in red or white and then a smaller cloth in the opposite color to pop on top .
Other wedding accessories that you can use include these –
Red and White Wedding Cakes
Photo Credits
From the top right moving clockwise –
Paul Anderson | Meringue Bake Shop | jumpyjodes | Sugar Daze | soa2002
Red and White Wedding Favors
There are lots of different ideas for wedding favors that are based around the red and white wedding theme as you can see from this inspiration board. If any of these things appeal to you then check out the supplier list below.
Supplier List
Heart Shaped Bottle Stopper
Mini Christmas Brownie Pops
Mini Acrylic Favor Box
Love Bug Magnets
Cupcake Boxes
Mini Hearts Wedding Candy
Wedding Coffee Favors
Pizza Cutter Favor