Calla Lily Wedding Cake Toppers ARE a Gorgeous Way to Decorate Your Wedding Cake!
A Calla Lily wedding is an absolutely gorgeous wedding theme, here are some great ideas for incorporating the Calla Lily with your wedding cake.
Calla Lily Wedding Cakes are beautiful and you can achieve a gorgeous looking wedding cake using gum paste Calla Lily cake decorations or non-edible Calla Lily Wedding Cake Toppers which you can then keep as a momento.
Calla Lily Wedding Cake – Photo Credit
Let's have a look at some of the cool ideas for Calla Lily Wedding cakes and how to achieve them.
Silver Heart Shaped Calla Lily Wedding Cake Topper
This silver and crystal wedding cake topper is very elegant and I love the way the Calla Lilies wrap around to form a heart – a beautiful cake topper that will also make a cherished momento of the day for the bride and groom.
It's actually been incorporated in the Green and White Calla Lily Wedding Cake opposite. I love the fact that this cake also has gum paste calla lilies adorning it as well, but you could have just used a plain white, traditional wedding cake if you preferred and simply added this Calla Lily topper on top.
Buy this Calla Lily Cake Topper here!
Bride & Groom Calla Lily Wedding Toppers
These Bride and Groom Wedding Cake Toppers are a great way of incorporating the Calla Lily theme on to your wedding cake without worrying about the cake decorating too much. Sometimes it's nice to have a plain, yet elegant wedding cake that is simply decorated with icing and/or ribbon and just add a touch of your floral theme with a gorgeous topper like we have here.
The top wedding cake topper simply shows the bride holding Calla Lilies so is a very subtle way of adding your favorite bridal flower to the cake.
I must admit I do prefer the bottom Bride and Groom topper where not only is the bride carrying a Calla Lily bouquet, but the flowers are around their feet as well – gorgeous!
Calla Lilies, Hearts & The Happy Couple
Another Wedding Cake Topper
If you want to incorporate both the heart shape, the Calla Lily and the bride and groom then this white wedding cake topper does that in a very elegant way.
Calla Lily Wedding Cakes
Click for a Bigger Image
Calla Lily Cake Decorations
You can add a Calla Lily cake decoration like this resin wedding cake topper or you use edible Calla Lily cake decorations.
The bride will often prefer to have a cake decoration that she can keep as a momento of the day whether it's something like this Calla Lily decoration or one of the cake toppers above. I was married more years ago then I care to mention and I still have my cake topper kept in an old jewelry box along with a couple of pieces of family jewelry that I've been left over the years. I've even moved countries since my marriage and that wedding cake topper is still with me!
Gumpaste Calla Lily Cake Decorations
Floral Wedding Cake Decorations
When you're making something like floral cake decorations you need to use gum paste as opposed to fondant so that it can hold it's shape – something that these Calla Lily decorations do very well.
I love the use of these floral cake decorations on a wedding cake and if you're not the type of bride and groom to want to keep a wedding cake topper as a momento then these are the way to go for your wedding cake.
I think the best possible way to decorate a Calla Lily Wedding Cake would be to use these gum paste decorations on some of the layers and then add a non-edible cake topper on the top of the cake.
Another option is to use edible gum paste Calla Lily decorations on your wedding cake and a funny or sporty or unique wedding cake topper to show off your personality as well. Like these two –
Calla Lily Wedding Cakes
Photo Credits
Blue Calla Lily Wedding Cake
Ivory Lily Wedding Cake
Pink Calla Lily Wedding Cake
Autumn Wedding Cake with Calla Lilies
As you can see from the selection of Calla Lily Wedding Cakes on this page you can incorporate the Calla Lily with a wide range of different color schemes for a sophisticated wedding cake.
Calla Lilies Aren't All White!
Use Different Colored Calla Lilies in Your Wedding Color Theme
It doesn't matter what color scheme you'd like to have for your wedding as you can get Calla Lilies in a range of colors now and when it comes to wedding cakes……… well your cake decorator should be able to make any color you like!
Calla Lily flowers can be brought in a wide variety of colors from the best known white Calla Lily to black, from green to yellow, from orange to pink and more.
This wedding cake featured here has done what I mentioned above and combined both edible cake decorations with a non-edible cake topper.
I think it's great how they've combined the two different colored Calla Lilies on the top of the cake and put the cake topper underneath in what essentially looks like a gazebo.
The result is a unique floral wedding cake that is sure to delight the bridal party and guests alike.
This is another example of Calla Lilies not always being white and is a lovely simple, yet elegantly decorated Calla Lily Wedding Cake.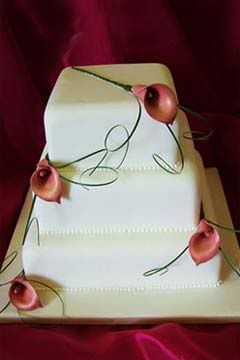 Chocolate Calla Lily Wedding Cake
Elegant and Delicious Wedding Cake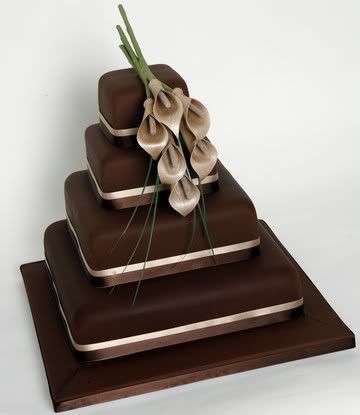 This cake just goes to prove the point that keeping things simple can add a really sophisticated and elegant feel to a wedding cake. When you think of the Calla Lily you think of simple lines and elegance and that's also what you think of when you see this wedding cake (along with the 'oooh chocolate' that escaped from my lips that is!).
A simple square tiered chocolate wedding cake is decorated very simply with ribbon around the bottom of each tier and then a simple bunch of pale brown calla lilies are laid on the top as though resting there until they're needed. I absolutely adore this cake and if you're going for a chocolate color themed wedding then keep this cake in mind.