NOTE: As an Amazon Associate I earn from qualifying purchases. I also earn money from other companies, read my full disclosure here
Fabulous Aqua & Black Wedding Invitations – Gorgeous Enough to Die For!
If you're planning an aqua and black wedding then you're going to want to grab some of these absolutely gorgeous looking aqua and black wedding invitations. The great thing about these wedding invitations (aside from the fact they they look divine) is that the company stands by their quality with a 100% satisfaction guarantee.
Want another reason to purchase one of these great invitations? They usually work out a lot more economical and they're available in a range of products from save the date cards to thank you notes, some of them are even available on postage stamps – how gorgeous would that look?
What are you waiting for? Let's scroll down and check out these fabulous aqua and black wedding invitations.
Invitations for an Aqua and Black Wedding
Aqua & Black Wedding Invitations – So Chic!
These wedding invitations are really nice and available through Zazzle which means that they are able to be customized to suit and can be purchased in the amount you require from 1 to millions!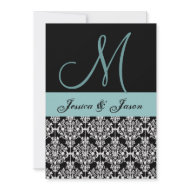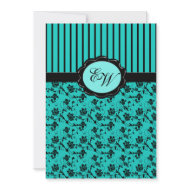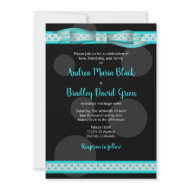 Adding a Third Color to Your Aqua and Black Wedding Theme
I've also found a number of wedding invitations that have a third color added to the aqua and black color scheme.   The third color is predominantly white, although silver is another great color to add to the aqua and black theme.   A surprising addition was brown which I would never have thought of combining, but on one of the invitations below you can see it actually looks very nice (if I do say so myself!)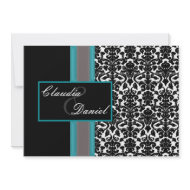 I hope you've found an invitation that suits you, if you're after more about Aqua Weddings then you may be interested in this page – An Aqua Wedding.