NOTE: As an Amazon Associate I earn from qualifying purchases. I also earn money from other companies, read my full disclosure here
Cool & Beautiful Green Wedding Invites
Hemlock Green is being heralded as one of the wedding colors of the year for 2014 and when you look at the color it's not hard to see why. A cool, minty shade of green it ticks a lot of boxes when it comes to colors it will team with along with themes it will happily embrace.
Hemlock Green is beautiful with neutrals like white, cream, grey or sand, but also works well with warmer colors like another color that's making 2014 it's year – Cayenne.
The invitation featured in this introduction image is a very cool and sophisticated invite that shows why Hemlock Green is such a great color to use, this romantic, floral invite is a great example of how good the color looks against white with just a touch of silver to add that certain 'je ne sais pas' to the overall look.
Hemlock Green & White Wedding Invitations
Simple and Beautiful Wedding Invites
These two wedding invitations combine the hemlock green and white color palette with stripes which is a simple and sophisticated look that is quite timeless.
The stripes down one side is a very contemporary look while the touch of pink in the heart adds a sense of fun to the other invitation while also demonstrating how a glimpse of a stronger color can work really well with this shade of green.
As you can see these invitations come in different sizes, there's also a selection of different paper types that you can use. One of the advantages of Zazzle (as it's always daunting buying something like this online where you can't acutally touch it) is that you can buy just one invite and see what it looks like before ordering the number you'd like.
I also love this simple dove design as a wedding invitation, to me it's the clean, simple design that adds an element to it that makes it both classic and modern at the same time.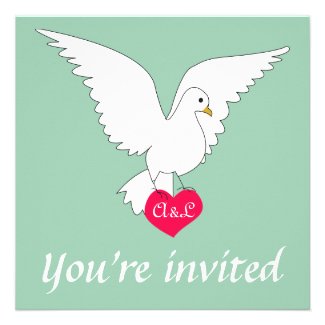 Hemlock Green Dove Wedding Invitation by myweddingstore
Hemlock Green Photo Wedding Invitations
Personalized Invites are Gorgeous!
I do love the trend for photo wedding invitations that has been happening in recent years. The first photo wedding invitation I received was about four years ago and I thought it was a lovely way of personalizing the wedding. The photo used in that invite was a black and white one and I think I would stick to black and white photos for these Hemlock Green invitations as well – it's sophisticated and romantic and just makes you look really good, or that's what I think anyway!
I think the first invite disproves the old saying about blue and green should never be seen. If you get the right shades the result can be stunning and if you want to incorporate a touch of blue into a Hemlock Green themed wedding then talk to your florist as I have seen a photograph of some blue buds in a wedding bouquet that were the perfect blue for you to incorporate. Unfortunately there was no mention of what they were called and I couldn't find a way to contact the person posting the image.
More Amazing Hemlock Green Wedding Invites
Designs to Suit Everyone!
This color can be incorporated nicely into modern designs or vintage designs, fun or sophisticated and I think that's one of the reasons I'm so excited to see it coming into itself. Here's a few different designs and color combinations that I think you'll enjoy. All of these see the combining of a warmer color with the green and it works really well.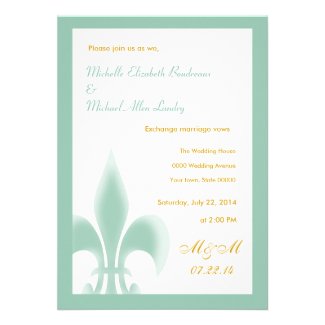 Fleur de Lis Casual Wedding Custom Announcements by EnchantedBayou
Here you can see a classic symbol used in weddings which is the fleur de lis, this adds elegance to a design as it symbolizes French royalty. What I love about this invitation is that it also combines gold with the Hemlock Green and this is a color combination that is really great. Gold, Hemlock Green, white and pale pink can all be combined in a vintage palette to great effect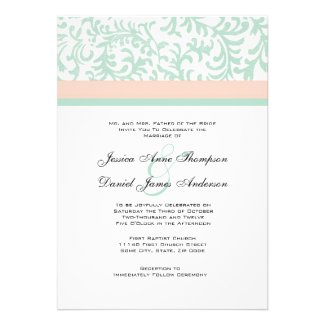 Mint Green and Peach Pink Wedding Invitation by TheBrideShop
In this next invitation you can see how Hemlock Green (a shade of mint green) works so well with peach, the damask design is a wedding classic and I think this invitation is perfect for a spring or summer wedding. I think a signature cocktail that combines peaches and mint would add something very special to this wedding theme.
Modern Hemlock Green Wedding Invitations
Both of these wedding invitations are very modern designs and I like both of them for different reasons. The first includes the very bold chevron design which is making waves both in the wedding industry and interior design and I love, love, love it! It also combines Hemlock Green with another color tipped to be a top wedding color for 2014 – Celosia Orange. The calming and cooling combination of the green perfectly compliments the bright and bold shade of orange.
The second invitation goes for the softer coral to combine with the green and when I look at it it's all about fun. It's the type of invitation that I could see a young couple using when they get married with the hugs and kisses signs featured prominently.
Hemlock Green & Radiant Orchid Wedding Invitations
Two Hot Wedding Colors for 2014 Brought Together
Hemlock Green may be one color that has been touted as an 'in' wedding color this year, but Radiant Orchid is another, not only that it's taken the mantle of Pantone's color of the year! The two colors – the bright purple tones of radiant orchid and the cooling mint tomes of hemlock green actually go together extremely well as you can see with these wedding invitations.
Ideas for a Hemlock Green Wedding