Gorgeous Emerald Wedding Invites
If you're looking for some emerald wedding invitations then I've found a lovely selection for you right here. Emerald, aside from being a gorgeous shade of green, has been touted as one of the hot for 2013-2014 weddings according to industry color experts Pantone.
If you love this gorgeous shade of green then you'll love the selection of emerald wedding invitations that I've compiled for you.
Emerald Green Peacock Wedding Invitations
Peacock Themed Wedding Invitations
A popular way of incorporating emerald green into your wedding is by using a peacock themed wedding as their feathers have a really gorgeous shade of emerald in them. There are lots of different styles of peacock wedding invitations that you can use so you need to think about how much peacock you want to use along with what complimentary colors you want to incorporate alongside the peacock feathers.
For example you can really embrace the peacock feathers like with these next two wedding invitations or you can just use more of a block color with the peacock feathers only being part of the design.
These two wedding invitations have used gold and gold with black respectively as contrasting colors which work really well with the peacock theme and seems to hint at a very lavish affair.
Gold has also been incorporated in these next two wedding invitations which gives the emerald green more of a look in as a color block as opposed to just in the peacock feathers.
We've already seen how black and gold work well with emerald green and peacock feathers and another color that looks great is brown or chocolate. This color is already visible on a peacocks feather so you know that it will compliment it well. Chocolate has been a popular wedding color to use for a while now so it shouldn't be too hard to find wedding accessories that incorporate it. See how well it works with these next two emerald green and chocolate peacock wedding invitations.
There are lots more peacock options when it comes to wedding invitations, but I just want to look at two more before looking at some other emerald wedding invites. These next two are both vintage designs which are incredibly popular, I personally love the first one as it almost seems as though the peacock is in a 1920s birdcage veil!
Emerald Green Gothic Wedding Invitations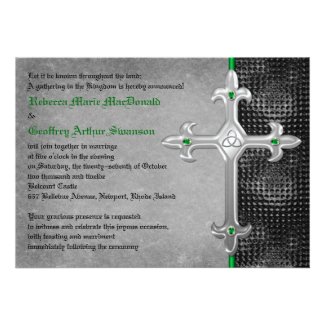 Gothic is often thought of as having a color palate like Henry Ford's cars – black or black, but there's actually a number of colors which Goths embrace and emerald green is one of those colors.
If you're looking at holding a Gothic wedding then emerald green could make a nice color to add to your scheme and these wedding invitations would certainly be very nice. You can check out more Gothic invites at – Gothic Wedding Invitations.
I love the invitation to the left of us with the Celtic cross as it keeps the dark tones that are associated with the Gothic culture while adding little bursts of emerald as well.
If you just want to add a little touch of Goth to the proceedings (don't want to upset Grandma or the future in laws for example) then you can try emerald green with a black damask pattern – the invitations below could be incorporated as a little nod to that side of you while keeping the rest of the wedding more 'traditional.
Emerald Tree Wedding Invitations
A Nature Vibe to Your Wedding Invitations
These wedding invitations are a beautiful nod to the color green and incorporate a getting back to nature feel to them as well as a vintage vibe. Either of these invites would be perfect for a simple or outdoor wedding.
Emerald & White Wedding Invitations
A Simple Wedding Color Scheme
If you've decided that you love emerald as a wedding color, but you don't want to go with a peacock or Gothic theme then you may be wondering what colors will combine well with emerald and I have to say that one of the simplest color combos is simply emerald green and white as you can see with these gorgeous wedding invitations.
Emerald & Black Wedding Invitations
Black is another color that looks stunning when used with emerald. I, personally think that the black and emerald color combination may become the most popular emerald wedding color combination because it looks good with just a dash of black or with a lot of black and a dash of emerald.
Then there's the designs, from vintage to chevron and more black and emerald seems to embrace all the different styles – check out the wedding invitations I've compiled for you here to see what I mean –
Emerald & Gold Wedding Invitataions
As we saw earlier with the peacock wedding invitations gold also compliments emerald really well giving it quite a luxurious feel to the occasion.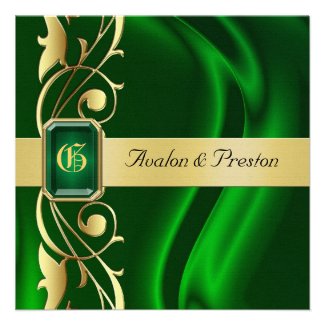 If you add a little black into the mix as well it turns into this style of opulent wedding invitation –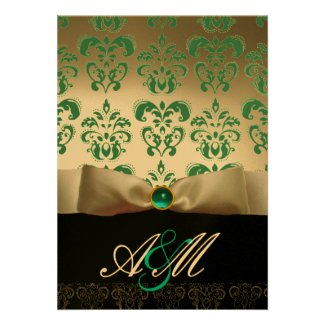 More Emerald Wedding Invitations
There are lots more emerald wedding invitations available from vintage styles to grunge designs and with different color combinations such as emerald and silver or emerald and emerald with a range of different beige tones. If you haven't found one of these designs to be one that appealed to you then check out the rest of the range at Zazzle –
I love the wedding invitations at Zazzle because the quality is great and the costs are very reasonable. Most designers on there have a full range of wedding stationery in the same design and if you want something that they don't have most of them are more than happy for you to contact them to request it.