NOTE: As an Amazon Associate I earn from qualifying purchases. I also earn money from other companies, read my full disclosure here
Pantone have been releasing their colors of the year for a while now and these have a massive influence on not just home decor, but also wedding colors.
Let's have a look at some of the Pantone colors that have been chosen…..
Pantone Colors for 2017
Pantone's color of the year for 2017 is Greenery, a fresh and zesty color that pairs well with lots of great color combinations for weddings. The other 9 colors of the year are –
Niagara
Primrose Yellow
Lapis Blue
Flame
Island Paradise
Pale Dogwood
Pink Yarrow
Kale
Hazelnut
Pantone Colors for 2016
For the first time Pantone announced two colors as their color of the year for 2016, both of the colors were relaxing and tranquil perfect for the upheavals of the year – Rose Quartz & Serenity.  The other 8 colors to join them are –
Peach Echo
Snorkel Blue
Buttercup
Limpet Shell
Lilac Gray
Fiesta
Iced Coffee
Green Flash
Rose Quartz & Serenity Wedding Collections
On Zazzle you can find plenty of Rose Quartz and Serenity Wedding Collections as the two colors go beautifully together and are a perfect wedding combination –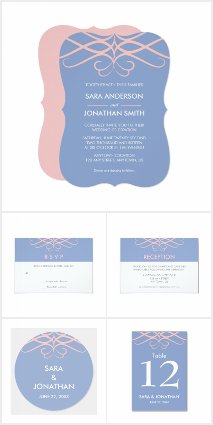 Rose Quartz and Serenity Blue Flourishes
by daisylin712

Pink rose and serenity blue dot confetti wedding
by Sarah Trett
Pantone Colors for 2015
The color of the year for 2015 was the wonderfully warm color called Marsala.  The other 9 colors to join Marsala for the Pantone Colors of the Year 2015 are –
Aquamarine
Scuba Blue
Beveled Glass
Classic Blue
Toasted Almond
Strawberry Ice
Tangerine
Custard
Glacier Gray
Pantone Colors for 2014
There are lots of different color combinations that you can use for your wedding, but a lot of people pay attention to the Pantone colors of the year/season and for spring 2014 they have come up with a gorgeous list of ten colors which would all make fantastic wedding colors. Their color of the year is Radiant Orchid which is a fantastic shade of purple, the other 9 colors are –