Winter Wedding Themes for Your Special Day
Spring, Summer and Fall weddings are all very well, but for a truly magical wedding how can you go past a winter wedding, especially if nature provides you with a majestic dusting of snow for your special day.
There are lots of different themes you can use for a winter wedding from the traditional winter wonderland theme to a festive Christmas affair and lots of alternatives in between. Let's explore how your winter wedding can be one that everyone will remember.
Winter Wedding Colors
Choosing a Wedding Color Palette for Your Winter Wedding
Now for some reason people seem to find it easier to choose a color scheme for a spring or summer wedding than for any other. When it comes to fall weddings they tend to go for traditional fall colors, but what about winter wedding color schemes? Well if you have a color that you really like then use it whatever season it is, there really is no hard and fast rules that say you can't use certain colors in the winter.
Personally I love the color aqua, but it's usually associated with summer weddings and beach weddings, however you could use just a hint of aqua with a predominanty white and silver wedding palette to create a modern twist on a classic Winter Wonderland wedding theme.
Here are a few color schemes which have been used to create beautiful winter weddings –
Barbie Pink & White
Black & White
Bold Pink & Red
Charcoal & Green
Cinnamon & Ivory
Cream & Champagne
Ivory & Deep Brown
Light Green, Black & White
Light Pink & White
Navy & White
Pale Green, Cream & Brown
Pink & White
Pink & Yellow
Red & Gold
Red & Green
Red, Plum White
Reds, Purples & Dark Pink
Rich Burgandy, Green & Gold
Shades of Green
Silver, White & Purple
White & Green
White & Silver
White Silver & Pale Pink
White, Silver & Pale Blue
Winter Wedding Invitations
There are certainly a lot of different styles of bride which means that there's lots of different wedding styles that you can choose. The selection of winter wedding invites I've included here I hope can give you a few ideas as to different color combinations you can try as well as different themes/styles. The overwhelming theme that stands out is snowflakes, but there are other ideas coming through as well like poinsettias, Christmas trees and snowmen.
Winter Wedding Theme Ideas
Creating A Special World For Your Wedding
If you can't visualize these color schemes on color alone, then let's look at some winter wedding themes where you can see them in action along with a few inspiration boards for you to enjoy.
Winter Wonderland Wedding
1950s Hollywood Glamour Wedding
Festive Christmas Wedding
1920s Vintage Winter Wedding
Cosy Shabby Chic Winter Wedding
Winter Wonderland Wedding
Creating Your Own Special Winter Wonderland Wedding
A winter wonderland is a classic wedding style for winter weddings and includes icy whites and silvers with a dash of pale blue. Snowflakes are the usual adornment along with the use of lots of crystal.
You can re-create different elements of it as well as adding your own special touches for instance add some pale dusty pink instead of blue to the white and silver for a little touch of warmth.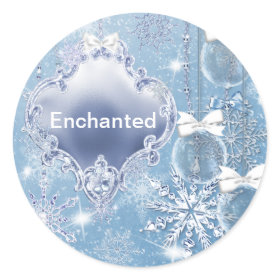 If you love CS Lewis then you can take a leaf out of 'The Lion,The Witch and The Wardrobe' and give your guests Turkish Delight as wedding favors like the White Witch (or self-proclaimed Queen of Narnia) did!
dd a little enchanted sticker like this one to pieces of Turkish Delight and you have a magical idea for a wedding favor that will have guests talking about it for a while to come.
You can also give them personalized packets of hot chocolate as well because when you're riding a sleigh with a Snow Queen of any description a hot drink (especially hot chocolate) is always welcomed ….. and it really does taste good with Turkish Delight!
Learn more about creating a magical Winter Wonderland Wedding on this page –
1950s Hollywood Glamor Winter Wedding
A Vintage Hollywood Wedding Theme
Black and White are the classic colors for this type of wedding with a hint of a third color in places – that could be green (with floral arrangements), red (very glamorous), gold or even silver.
In the fifties the female stars of Hollywood thought nothing of wearing fur so add a faux fur stole or fur lined cloak to your wedding dress and bridesmaids dresses (it's also a great way to stay warm!)
Supplier List
Grace Kelly Picture | Martini Glass | Hollywood Movie Place Card Holder | Red Carpet' Sidewalk Runner | Top Hat Ice Bucket | Hollywood Movie Centerpiece | Ivory Candelabra Wedding Centerpiece | Bird Cage Veil
Libbey Vina Martini Glass, Set of 6

Epic Products Top Hat Ice Bucket

Ivory Candelabra Wedding Centerpiece Candle Holder

Festive Christmas Wedding
Creating A Special Christmas Wedding Day
I must admit I love the idea of a Christmas wedding held in the winter, the only Christmas wedding I've actually attended was on Christmas Eve and was held in New Zealand where it was summertime – a totally different vibe than the usual Christmas Themed Wedding I can assure you!
Now you can go completely over the top with this theme or be a little more restrained it's entirely up to you.
Suppliers List
Red Wedding Dress | Our First Christmas Personalized Ornament | Mini Crystal Christmas Trees | Holiday Brownie Pop Favors | Christmas Wine Charms | Jeweled Christmas Ornament Place Card Holders
1920s Vintage Winter Wedding
Think of gold, crystal and dusky pink for the ultimate 20s wedding. Although champagne and cream with touches of gold also work well.
I always think of feathers and champagne cocktails when I think of the 1920s so you could use feathers and brooches in your wedding bouquet instead of flowers – brooch bouquets are rising in popularity and the addition of feathers as well will make it very 20s inspired
Cosy, Shabby Chic Winter Wedding
A DIY Winter Wedding Theme
If you're after a DIY winter wedding then I recently saw wedding photos that just said cosy and shabby chic to me. If any of these words resonate with you then check out this page (I'm not even going to try and put my own twist on it!) –
'Snowed In' Winter Wedding Ideas
The couple use marshmallows, yarn, vintage lace and a color palette of white, peach and orange, it really is a cool winter wedding styling.
Hot Drinks Bar – The Perfect Idea for a Winter Wedding
Providing warm cocktails for a signature cocktail gives a novel twist to your winter wedding theme. Another idea is to have a hot drinks bar whether it serves just hot chocolate or tea and coffee doesn't matter. The main thing is to have this with disposable coffee cups so that guests can grab a hot drink along with an edible favor when they leave your wedding reception to venture out into the cold winter air.
You can offer tea, coffee or hot chocolate at the hot drinks table or you could even have a selection of hot cocktails which would go down very well I'm sure, check out the recipes here –
Hot Chocolate Cocktails
This delicious chocolate cocktails are perfect for warming you up in winter time.
Alcoholic Coffee Recipes
Add a little 'extra' to your coffee for a very nice after dinner drink or a cocktail that will warm you up during winter.