Looking for Gorgeous Red & White Wedding Invitations?
If the answer to that question is yes then you're in the right place as I've compiled a gorgeous selection of red and white wedding invitations in a range of different styles for you to browse through.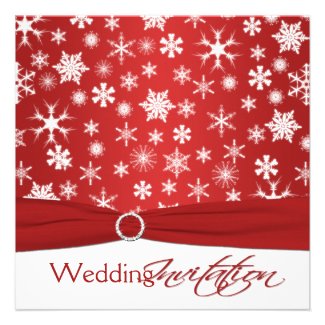 Red White Snowflakes Wedding InviteCheck Price
These red and white wedding invitations are available online through a company called Zazzle. Zazzle products are made to a great quality, and printed on demand for you.
I find that when it comes to wedding stationery they are a really good company to deal with because not only are these products available as wedding invitations, many of the designs are also available in a range of wedding stationery from save the date cards to place cards. They are also sometimes available in matching postage stamps.
Red & White Floral Wedding Invitations
There are always a lot of floral designed wedding invitations available and that's even so when it comes to a red and white themed wedding with gorgeous poppies, gerberas and other floral designs.
In Chinese culture Cherry Blossoms are seen to represent women and love which is probably why they've been so embraced in Western weddings in recent years. I also think there's something unmistakably beautiful about them and I think they are perfect for spring weddings.
 "O my Luve's like a red, red rose"

Robert Burns
Red Rose Wedding Invitations
More Red & White Floral Wedding Invites
Red roses and romance go hand in hand which is why when I first think of a red and white wedding my mind goes straight to a red rose bouquet and a white wedding dress! There are some gorgeous red rose & white wedding invitations which you can use if you've decided on a red rose themed wedding.
Red & White Winter Wedding Invitations
A red and white wedding theme is very popular for winter weddings because the white represents snow and red is a traditionally festive holiday color. Here are some great wedding invitations if you've decided on a winter wedding –
Red is associated with good luck and fortune so having red as one of your wedding colors is said to bring luck and good fortune to the marriage.
Red & White Heart Inspired Wedding Invitations
Wedding Invitations Full of Love
Red & White

When the colors red and white are combined they are said to symbolize unity, togetherness and long-lasting love.

What better colors for a wedding could there be?
More Red & White Wedding Invitaions
There are so many different styles of red and white wedding invitations from the floral and hearts above to vintage, lighthouses, cranes, butterflies and more. Let's look at a range of different red and white wedding invitations for you to choose.